Parkersburg, WV assisted Degussa's Weighing Needs
The system consists of several hardware devices that work in conjunction with a custom software package from ScaleSoft Development, to devise a customized process solution for Degussa Engineered Carbons and their weighing needs.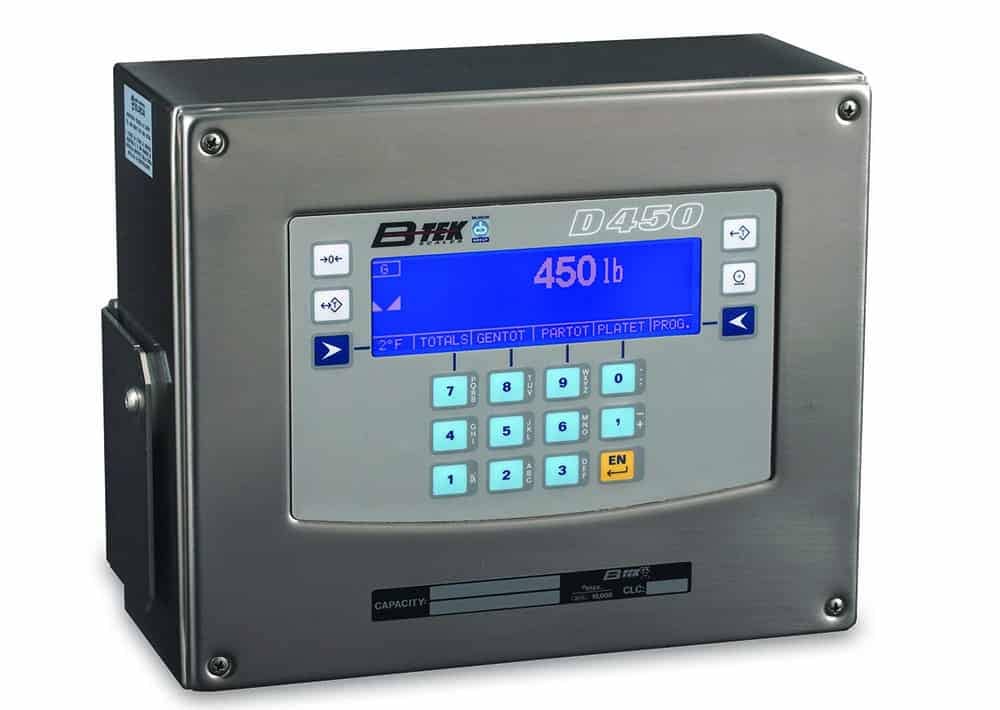 The start of any system is the indicator. In this case, we used two Bilancai D450s stainless steel indicators that we custom mounted to the system panel box. The indicator itself comes standard with two separately configurable serial communication ports that will work in RS-232, 422, or 485 modes. We added an extra Ethernet and serial communications option card; the Ethernet card was for continuous weight transmission over a TCP/IP network to our laptop, which was mounted inside the system box and the second RS-232 serial card was for a remote LED display. The first standard port was being used for remote commands so our customer could remotely zero the scale in case of a weight buildup. The second one is reserved and utilized if there is an Ethernet card installed.
Another important piece of hardware we used was the Digi TS8 serial-to-TCP/IP conversion device which takes all RS-232 data and converts it to Ethernet data for faster transmission times and ease of software configuration. It has room for eight total devices that utilize a TCP/IP port number related to the physical RJ-45 jack it's plugged into. The conversion box can be configured using a web interface that has several different serial-to-TCP/IP conversion options, as well as diagnostic capabilities from several tools not normally available when component troubleshooting.
Since we had to have a way to communicate to the railroad company for weigh transaction acknowledgment and weigh car progression, we utilized a traffic light control system which included the long-life super bright LED bulbs which are controlled by the Measurement Computing E-PDISO16. This device has plenty of inputs and outputs for everything from a traffic light system, to photo-eyes, to just about any standard I/O device. It also converts this data then sends it over a TCP/IP connection that is interfaced with the free software that they provide called InstaCal.
Since we couldn't change the tags for every one of their rail cars for railcar weighing, we had to find a solution for the existing RFID tags that would read older tags, newer tags, and everything in between. In the process of investigating the proper hardware, we came across TransCore's AI1620 SmartPass Reader. Not only did it read several types of tags but it was an easily configurable device that would output a standard RS-232 data string which we would then convert with the Serial-to-TCP/IP converter to be seen over the network. For truck weighing, we are utilizing the QSI QTERM-P40 for the operators to enter all of the correct information in the weighing process. It is an ASCII input operator interface terminal for the software, that inputs trailer number, yard truck being used, and several other "process questions" for storing and retrieving in the database.
For power protection we have two 1500VA APC battery backups for every single device attached to the system. This should protect against power surges, drops, brownouts and blackouts when used in conjunction with proper grounding techniques that the scale engineers follow when installing the scales.
This system is enmeshed with all of the latest communication technologies and a team that can make the most changes and incorporates those changes within a few minutes' time thanks to remote administration software and broader high-speed internet availability. Everything from customized reports to new hire training, it is possible that services that usually may take hours of travel, mileage, and fuel costs to accomplish can be done at the click of a button.
With all of the accomplishments we've made in our systems department we can always get better and stay at the leading edge of technology from the indicators we use to the communication technologies we utilize and even with the types of scales we install and service.