Nitro Branch Installs Unique Multi-Axle Weighing System
This system is unique, in that it's the first one Brechbuhler Scales, Inc. Nitro has ever done with a multi-axle weighing system; as in three completely separate weighbridges, attached to a single indicator.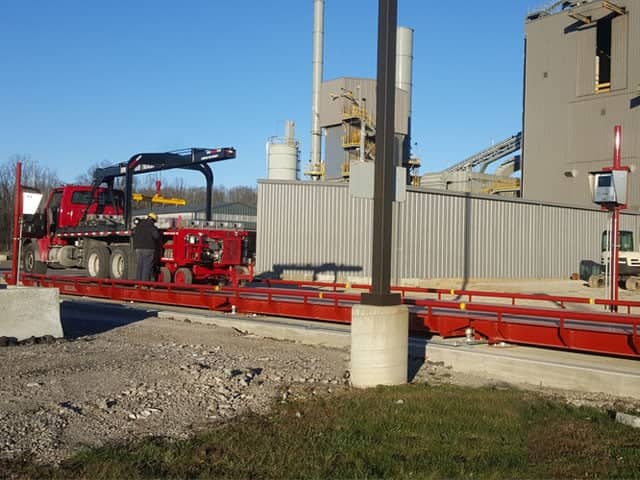 The indicator referenced is the DD 2050, which also acts as the HMI (human-machine interface). There are actually two of these pole-mounted units, one acting as the SQL server, with three different analog-to-digital cards in them, the primary device, and the second indicator acting as a secondary, which mirrors the weight of the primary device. This allows for two-way weighing transactions. They also have a remote display that shows the summed weight. All of these were connected by a customized and durable rigid conduit system.
There were two distinct processes that had to be developed for the different types of trucks that come into and out of their facility; the wool truck weighing process and the standard truck in and out process.
In regards to the wool truck process, they needed to store the trailer's tare weight, store a loaded trailer, and store a yard truck's weight. This was accomplished by using a small database on the primary DD 2050 that stored the individual trailers, their weights, the yard truck weights, and date/time stamps for "weight last tared", for reporting purposes. In the end, they did not utilize this particular function because it would require them to know every single potential trailer's number and tare, and store said information. Instead, using the existing structure, we switched to a "trailer type" and are using a universal tare for each type. This is not legal for trade applications, so this was an acceptable alternative.
While an unattended system generally utilizes proximity, barcode, or magnetic strip card, the business process doesn't allow for the issuance of either of these to streamline the process. Instead, the software developers had to make the In/Out process as user-friendly as possible, with large buttons and a large on-screen keyboard, as well as an intuitive step-by-step process, with software feedback for the end-user, and helpful step restarting if an error is encountered. The system was tested and is working quite well!
Going forward, we will be installing quite a bit of the DD Series indicators, due to their absolute customizability and familiar touch-screen technology. The fact that we can assist the customer and technicians in many aspects of the troubleshooting, configuration, and future customizations remotely if we can get these devices on the internet, makes them even more of a smart choice for the right situations.