Canton & Youngstown Rebuild 1970s Mechanical Rail Scale
At the Brechbuhler Scales (BSI) Canton shop, we have rebuilt a 400-ton Howe Mechanical Rail Scale. This is a joint effort between BSI Youngstown and BSI Canton. BSI Youngstown sold the rebuild. The scale belongs to a customer of Youngstown. The customer is a castings company out of Northeast Ohio. The scale is a 400-ton capacity Howe Mechanical Rail Scale. It is said that there were only 3 built and this scale is supposedly the largest rail scale east of the Mississippi. The scale was built in the early 1960s and we do not know if it has ever had a rebuild done on it.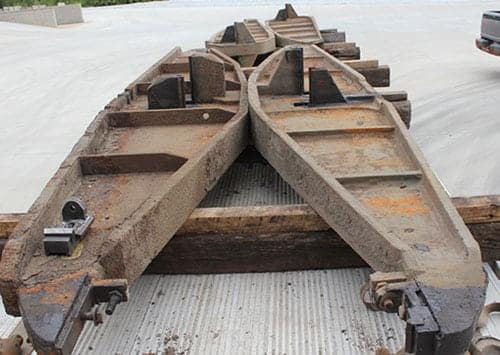 In the 1970s one of the transfer levers broke. Because it was such a unique scale, it would take a year for Howe to build a new lever. So, BSI Canton fabricated a replacement lever. It was fabricated by Jay Stevens (retired) and the late Art Koveski (retired). Dan Griffith, Don Moody, and Kraig Brechbuhler were part of the crew that installed the BSI fabricated lever back into the scale.
This scale rebuild that we are currently doing reflects the "old school" scale-man trade when all the scales were mechanical and required unique scale-man skills. The rebuild started on a Sunday and we disassembled the scale and hauled the parts to the Canton shop. We have a crew of 6 to 8 scale-men working on it every day with only a week and a half to complete. It is a very time-consuming job because of the size, weight, & age of the parts. This is a unique job and this scale is also a unique piece of scale history.