Brechbuhler Scales, Inc. Nitro helps Recycling Company Overcome Unique Challenges
A recycling company had some unique challenges we had to overcome due to where they had to place the scale, which was a considerable distance from the sources of power and where the office would be. First off, the indicator used was a DD 1010ic, with a custom truck in/out program, written to produce a tone whenever a certain weight threshold was reached.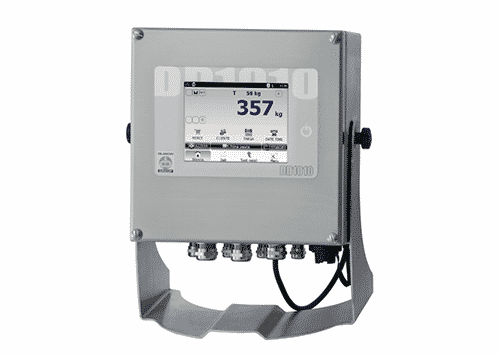 To make this happen, the software developers built the custom program off of the existing standard program offered, with the customizations for the sound card hardware to be recognized and the appropriate tone to play at the right weight, which is all configurable in the settings. There were also some custom drivers that needed to be written for the continuous feed thermal printer that was connected via a serial-to-Ethernet converter. The indicator would also need to communicate to a remote display via an RS-232 serial connection.
The next challenge we faced was the 325-foot distance from the scale to where the indicator was to be placed. There was one conduit for the power and one for the homerun cable and, since the network cable that needed to be connected to the printer would only reliably work at a distance of 300 feet, we decided to create a wireless Ethernet bridge. For this, we utilized a B&B Electronics GhostBridge system. This is a very user-friendly bridging system due to its need for zero configurations, because of the LEDs on the back of the devices to determine your signal strength. We literally just power them up and pointed them at each other until the LED was as high as it could go and our bridge was built!
Unfortunately, the distance requirements were even shorter for the serial cable for the remote display, so a different wireless communication system was needed for it, so it wouldn't interfere with the Ethernet bridge. We installed a Matko SBL-4 with the XT300 wireless system. This model features RS232, current loop active, current loop passive, RS422/485 at selectable baud rates from 1200-19200 with 16 selectable network IDs. The range is up to 1 mile outdoors and 300 feet indoors, so this was more than what we needed for our application. Once activated and properly wired, the remote display system has functioned without fail during the entire process!
The very long homerun cable was taken care of with the connection of the sense leads to add "extra voltage" for the proper load cell and summing board operation. The scale was calibrated and certified and is in great working order. There were several challenges with this project that were overcome by the cooperation of two different branches and the work of our Systems team at our corporate headquarters. Everyone put in extra hours and went the extra mile to make it successful and we have a satisfied customer because of it!